Vintage Knitting & Crochet Patterns for Baby, Diaper Covers, Booties, Sweater, for Newborn, 1940s, Free Pattern
Vintage Knitting & Crochet Patterns for Baby, Layette Set including Diaper Covers, Booties, and Sweater, for Newborn, 1940s - FREE PATTERN. Originally published by The Spool Cotton Company in booklet entitled, "Woolies for Babies," Book No. 224, now within the Public Domain.
* INSTANTLY DOWNLOADABLE
in English only -- PDF FORMAT
5292 - Sweater, knit
5293 - Diaper Cover, crochet
5294 - Diaper Cover, knit
5305 - Booties, crochet
Each pattern lists the materials needed, the gauge, and the written directions - all scanned from the original pattern.
Since some abbreviations may have changed since 1945, here are the definitions from this booklet: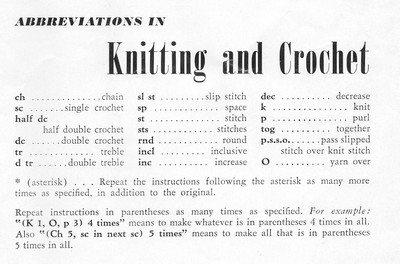 ____________________________________
NAVIGATION LINKS:
MORE: Knit Dishcloth Patterns
MORE: Crochet Dishcloth Patterns
RETURN TO MY STORE --> HERE
____________________________________
How to obtain this free pattern: Just add it to your cart, and proceed to checkout. Complete the checkout process, and you will not be charged anything. You'll receive an email with directions for downloading.
FAQ: <-- Click for contact information and pattern downloading & printing process.
____________________________________
Disclaimer: This is a vintage pattern which has passed into the public domain. Because it is not my original pattern, I take no responsibility for accuracy, clarity, or completeness of the directions.
____________________________________