Etsy - How to Mark as Shipped & Add Tracking Number
---

---
Updated July 12, 2021
ETSY: How to Mark as Shipped & Add Tracking Number?
On Etsy, "Mark as Shipped" is actually called "Mark Complete." If you use Etsy's shipping labels, it is marked automatically, but if not . . .
Here's how to mark an item as shipped / dispatched and add a tracking number:
1. Go to Shop Manager and click Orders & Shipping.
2. From the Open orders tab, locate the order to be marked as shipped / dispatched.
3. Click the icon that looks like a circle with check mark inside as pointed out below. Hovering over the icon with your mouse, it might say "Update progress" or it might say "Mark as Complete."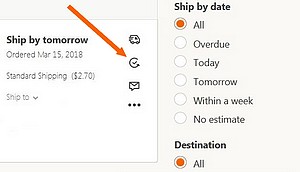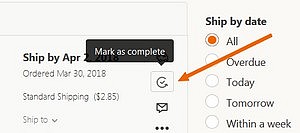 4. If you have the "Mark as complete" icon, it will take you directly to the shipping page. (Skip to Step 5.) If it says "Update progress," click the Mark complete button as seen below: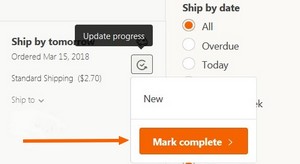 5. A window will open to give you the option to add a tracking number, shipping provider, ship date and a Note to Buyer. You may choose a ship date up to 2 days in advance.
6. Click "Mark order(s) complete." Your order will be moved from Open to Completed on the date you chose as your ship date. Etsy will also email your customer on your chosen ship date notifying them of the tracking number and that the order has shipped.
---
Note to Buyer: If you need to change this default message for the future or want to leave it blank, see this blog post: How to Delete or Change Note to Buyer.
Click here for more → Etsy How To's
---
Aunt Susan has had a successful Etsy shop for 7 years and regularly posts in the Etsy forums to assist with questions like this one.
Feel free to browse my website store while you're here for items that are not available at my Etsy shop.
---