Announcing Aunt Susan's Blog of Inspirational Handmade Gifts & Decor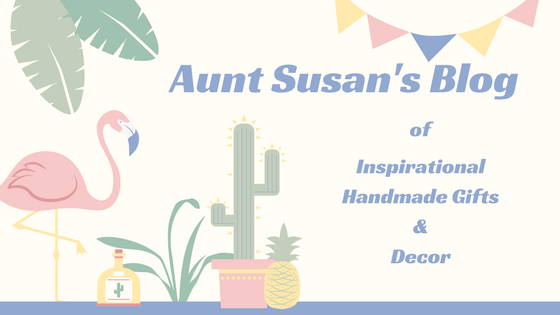 Welcome to Aunt Susan's Blog!
With a focus on HANDMADE, whether by yourself or by a real craftsman, it can be daunting and frustrating when seaching for that perfect and unique gift or home decor item online. Let me be your personal shopper by showcasing ideas with inspiring samples of gifts and unique decor for your home that you can make yourself or purchase from trusted online shop owners.
Background
I've been selling online since 2004, first at eBay and then in 2013 at Etsy selling handmade items and patterns. Since then my shop, Aunt Susan's Closet, has branched out to IndieMade, Zibbet, Ravelry and Craftsy. My working career involved all sorts of researching, so I'm putting together the two things I enjoy to bring you thoughtful handmade ideas without the hassle of searching through millions of listings.
Let Me Do The Research
When you are looking for something a little bit above the norm to give to that special someone or you're looking for an extra special project to add a touch of flair to you home, you don't want to spend hours online. Whether it's for a wedding, baby shower, Christmas, birthday, nursery, hostess gift, or any other special situation, let yourself be inspired and let me do the work to locate the perfect handmade item!
There will be a series of posts with a common theme. First up: WEDDINGS!
---
Inspiration
At the end of each post will be an inspiring quote, like this one:
"Things may come to those who wait, but only the things left by those who hustle." - Abraham Lincoln
---
Please share Aunt Susan's Blog with your favorite media outlets: